THE HISTORY OF A
DETROIT LANDMARK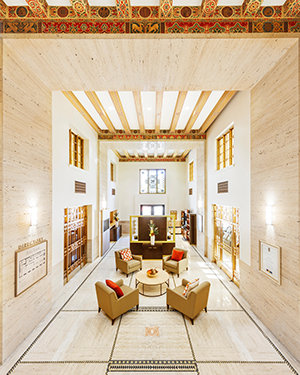 The site of the neoclassical landmark that is now home to the Church of Scientology Detroit has no equal in this proud city. For it was at this location in 1701 that Detroit's first structure—a church—was built by French explorers. Although the wooden structure burned several years later, the location, in what is now the heart of the Detroit Financial District, would go on to become the home of yet another iconic building.
Here at the corner of Griswold and Jefferson fronting the Detroit River, the limestone-clad Standard Savings & Loan Bank arose in 1927 to meet the demands of the burgeoning automotive industry that fueled the rise of America's undisputed Motor City.
Throughout the decades, what really made the structure stand out was its magnificent architectural details rendered by Italian-born designer and sculptor, Corrado Parducci. Hired by the noted local architect George D. Mason, Parducci embellished the building with exquisite features including brass doors, mythical figures, hand-painted ceilings and beautifully rendered stained glass. Fittingly enough, the location has earned the moniker "the Cornerstone of Detroit."
After acquiring One Griswold Way, the Church set about bringing new life to the landmark, restoring many historical and architecturally significant features. This included renovating the ornate metal grillwork above the front entrance. At its center, a griffon—a mythical animal tasked with guarding treasure—has also been fully restored to its original luster. And signaling that the city's time has indeed come, the chrome clock on the building's façade has also been refurbished.